The TV-Anytime Forum (TVAF) did again exhibit at NAB 2003, April 7-10, 2003, in Las Vegas, Nevada, USA. TVAF co-sponsored the Interoperability Center, along with the Pro-MPEG Forum and the Advanced Authoring Format (AAF) Association. This was the fourth year that the Interoperability Center has appeared at the NAB Convention, and it is well known by the industry and press for highlighting the interoperability of media standards.
The TVAF exhibit in the Interoperability Center at NAB 2003 consisted of two demonstration units. One unit was dedicated to demonstrating metadata authoring, editing, aggregation and publishing, and the other unit demonstrated the viewer experience that is provided by using metadata to segment content. The primary TVAF members involved in the demonstrations were the BBC, NDS, onTV, and Philips. In addition, TVAF provided feeds to the metadata authoring demonstrations from NTT (Asia), and Tribune Media Services (US).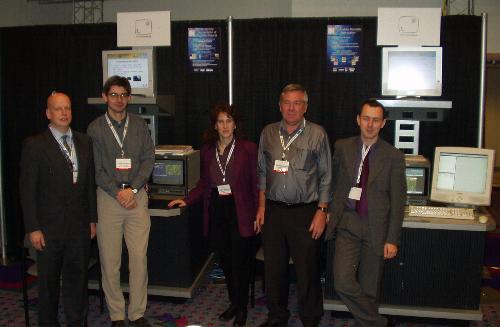 TVAF at NAB 2003: Simon Parnall (TVAF Chairman), Andrew McParland (BBC), Kellie McKeown (TVAF Event Manager), Colin Moorcraft (onTV), and Alex Ashley (Philips) - from left to right.
Several TVAF members also appeared at a NAB 2003 conference session from 2:00 to 5:00 PM on Monday, April 7, entitled The PVR: Shifting Time and Paradigm. The session included presentations from TVAF members BBC, ContentGuard, Microsoft, Motorola and NDS, plus a description of TVAF's demonstrations in the Interoperability Center. This session was part of the NAB MultiMedia World Conference. Also at NAB 2003, Jean-Pierre Evain of the EBU presented a paper entitled TV-Anytime Has Completed its First Specification Phase in November 2002, at 10:30 AM on Wednesday, April 9, as part of the NAB Broadcast Engineering Conference session Technology Based Broadcast Services.
The presentations are now available for download on the TV-Anytime Forum Presentation page.
TVAF has submitted its Phase 1 specifications to the European Technical Standards Institute (ETSI) and has recently started its Phase 2 work. TVAF members will be on hand at NAB 2003 to discuss this migration and the distinction between Phase 1 and Phase 2 of TVAF specifications.